All the sports disciplines evolve from time to time, fishing is not out of the scheme and thanks to it, today we have different modalities and interesting techniques, which help the professional fisherman to overcome the situations that arise.Today we speak of a relatively new and increasingly popular modality in Spain: Rockfishing fishing.
What Is Rockfishing Fishing?
It is a hybrid mode, derived from fishing to Surfcasting and fishing to light Spinning. With the particularity of being practiced in rocky bottoms.
It consists of reaching the fish that take refuge in the cliffs, rocks, breakwaters or areas whose background and surroundings are rocky. It can be practiced at any depth as long as the lightweight team can withstand it.
For rock fishing you can use artificial lures, which are appearing more and more in the market. However, the most recommended is usually natural bait, namely that used for fishing Surfcasting.
To be able to call this true rockfishing, there are some conditions, the first is the inescapable premise of catch and release, we can not stay with the fish we catch.While, on the other hand, you can not use items such as buoys or floats, to prevent the lure from reaching the bottom. On the contrary, if you do not get to the rocky area we could not call it rockfishing, which is nothing more than "fishing on the rocks".
Another characteristic of this type of fishing is that most of the catches are very small, we may sometimes get something big, but it will be common to catch small fish. Reason why some think that rockfishing is a modality for children.
Nothing further from the truth as it takes true cunning and ability to bring a good rig to the bottoms, prevent them from getting entangled or cut and then raise the dam using extremely light equipment.
What To Fish With The Mode Of Fishing Rockfishing?
Naturally we will try to reach fish accustomed to live in breakwater habitats. Most are immature fish that take refuge in the irregular bottoms, from where all the catches are released.
As for the species we have a wide variety available, it all depends on the area in which you are. Usually the labrids, some spáridos and other serranids are of first in the list. Followed by certain góbidos and blénidos that usually spend their life near the cliffs.
In short, you can catch serranos, cows, goats, sargos when there is foam, also jureles, dentees, obladas, serviolas, from time to time seabass and other predators that are in the area looking for food due to some recent storm.
Where And How To Situate Yourself During Rockfishing Fishing?
Most think that to fish for rockfishing it is necessary to stand directly on the rocks.And although it is true that bottoms on a breakwater or near a cliff are most likely to have rocky bottoms, the truth is that what is important is not where the fisherman is located but where the rig is located.
If you happen to find a beach or a port whose bottoms are not sandy but rich in rocks, you can also practice rockfishing. However, it is important that the fisherman is at a considerable height, so that when he picks up the line he does not come crawling but rising.
Due to the inherent danger of rockfishing, you should be very careful when locating your equipment and yourself, avoid areas that are too steep, unsupported, too slippery or sharp.
Also investigate whether the area in which you intend to fish has a ban. Some do not allow the passage of people and others are forbidden to fish specifically some species.
Fishing Equipment Rockfishing
Until recently, the manufacturers of fishing equipment had not designed any type of specific implement for the fishing to Rockfishing, nevertheless as this modality gains adeptos, prestigious fishing houses have begun to take products dedicated to the rockfishing. However demand is still low, and hence many fishing shops do not have much to offer.
The good news is that this is a modest little demanding, but rather light and creative.
Fishing Rods For Rockfishing
Ultra thin spinning rods predominate, whose length goes from 2.10 mts. Up to 2.25 mts. They have an action of 20 or up to 30 grams. Preferably not more than 20 grams. There are those who use surfcasting rods, but they are really quite cumbersome when it comes to catching the water and it really is not appropriate given the economic value of buying a more suitable rod.
The Fishing Reel For Rockfishing
As always, we recommend that equipment that may have a lot of contact with water or rocks is made of a resistant and anticorrosive material. Beyond that, its capacity should be about 150 meters of fine thread, and have a moderate power.The size should be around 1000 to 2500 maximum, remember that you need lightness to handle the cane fluently and feel in detail what happens under the water.
Considerations Before Buying Fishing Accessories
Let us think for a minute in the environment where the rig will be located. Usually it is recommended to use a thick wire or stranded in the rocky areas, but this time we are trying to catch small fish, a thread too thick would alert them to the presence of something suspicious and in turn would be more difficult to cut if the lead Entangles
What to do then?
First use a smooth and light lead, or in any case protect it to avoid that its channels, hooks and textures will somehow take root to the vegetation or bottom irregularities. You have to understand that it is the leads that end up entangled, not the hooks.
Then it is important to assemble a rig with the smallest possible number of emerillions, pearls and other artifices.
If you want to place several hooks is perfectly possible, you just have to know how to do it. Remember that the lead must be at the end of the rigging, which should be hooked to the mother line with very fine monofilament, the same for the gametes, so if by chance something gets entangled, it will be easier to cut it without losing the rest of the rig.
The idea of ​​putting the lead in the end is that the lures or baits are slightly higher, gaining more visibility and a more natural movement. If you do not have much experience fishing on rocky bottoms, use only one gamete with a hook, later you can do doublets or triplets as you gain experience.
While there are few specific lures for rockfishing, you can use the tiny vinyls, especially, that are shaped like crustaceans because they work very well.
What Baits To Use In Rockfishing Fishing?
For surfcasting fishermen to find baits in this mode is very easy, since practically everything that is used in Surfcasting serves perfectly for the fishing rockfishing.One only has to know what kind of food is abundant in the area that we choose, so that we choose a bait already known and appetizing. However you can try something "strange" to see if the novelty catches the attention of those curious fish.
The options range from squid, shrimp and sardines, to popular annelids such as the American worm, Korean and the typical beach worm. From time to time small crabs, clams or squid have excellent results.
"Are you aiming for a day of rockfishing? Give an opportunity to this fun fishing that brings great rewards in experience, with such small catches. See you soon and good fishing. "
Gallery
Rock Fishing Tips
Source: www.fishingingodzone.co.nz
Amantes del Spinning Gran Canaria: Rockfishing
Source: spinninggrancanaria.blogspot.com
Rock Fishing In Sydney
Source: www.zimbio.com
Dick's Blog: Rock Fishing
Source: passingparade-2009.blogspot.com
Lifejacket update: Minister responds to rock fishos …
Source: www.fishingworld.com.au
One dead. Two rescued. Sydney Rock Fishing Tragedy …
Source: www.seabreeze.com.au
Lunatic rock fisherman in his undies somehow escapes …
Source: www.news.com.au
File:Taiwan 2009 East Coast ShihTiPing Giant Stone Steps …
Source: commons.wikimedia.org
Rock fishing and line fishing up north, Cape Verde islands Sal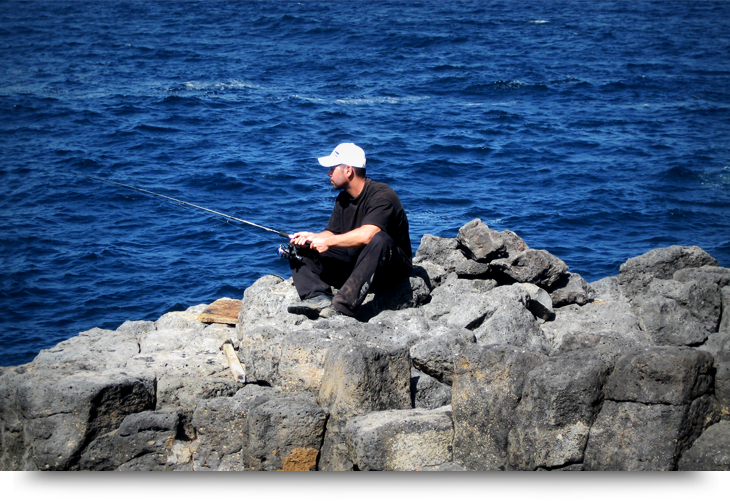 Source: cape-verde-islands-cabo-verde.com
Flat Rock Land Base Fishing NZ
Source: www.youtube.com
Light Rock Fishing in Rhodes
Source: light.rockfishing.co.uk
20lb snapper woman rock fishing far north nz
Source: www.youtube.com
Panoramio
Source: www.panoramio.com
Push to make rock fishing safer
Source: www.sbs.com.au
Rock Fishing Fatality in Maroubra
Source: www.seabreeze.com.au
Sebastes miniatus
Source: en.wikipedia.org
Rock Fishing – EXTREME
Source: www.youtube.com
Rock Fishing – Gary Brown
Source: alvey.com.au
Light Rock Fishing
Source: finessefishing.wordpress.com
ROCK FISHING / North East Coast Angling
Source: www.whitbyseaanglers.co.uk